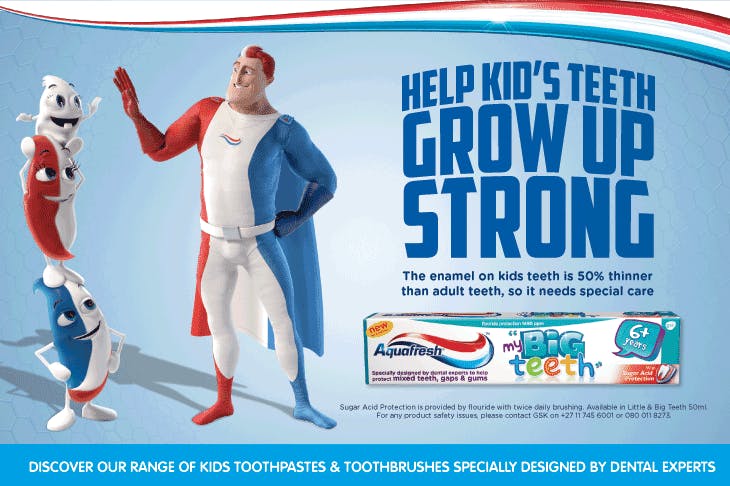 Around the age of six, your child's adult teeth will start to arrive
It feels like our little ones grow up so fast, however the enamel on new "big" teeth doesn't grow up quite as quickly as they do. This means their teeth are more vulnerable to tooth decay than yours.
AQUAFRESH
®

My Big Teeth with Sugar Acid Protection toothpaste and toothbrushes for children

When big teeth start coming in, it's time to move to a big-tooth level of protection. Aquafresh Big Teeth with Sugar Acid Protection promotes strong teeth, healthy gums and fresh breath with a sugar-free, fresh mint flavour to encourage regular brushing.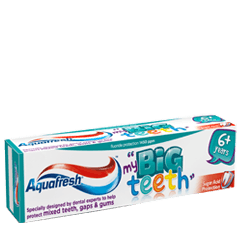 AQUAFRESH
®

My Big Teeth with Sugar Acid Protection Toothpaste
1400 ppm fluoride level

Child friendly fresh mint flavour

Low abrasivity

For children ages 6 years and older
Advanced all-in-one protection
Strengthens tooth enamel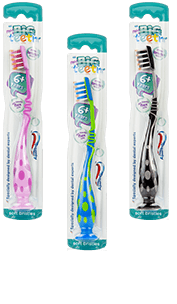 AQUAFRESH
®

My Big Teeth Toothbrushes
Mixed bristles to help clean in between teeth

Suction foot for easy stand up

Soft bristles help reduce the risk of damage to gums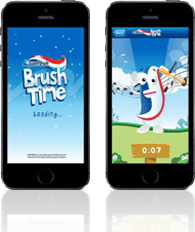 Easy ways to make brushing
your child's teeth fun
We've worked with lots of children and their parents to help children engage with brushing their teeth and encourage good habits. Having fun is key. So find out how you can help your child enjoy taking care of their teeth.