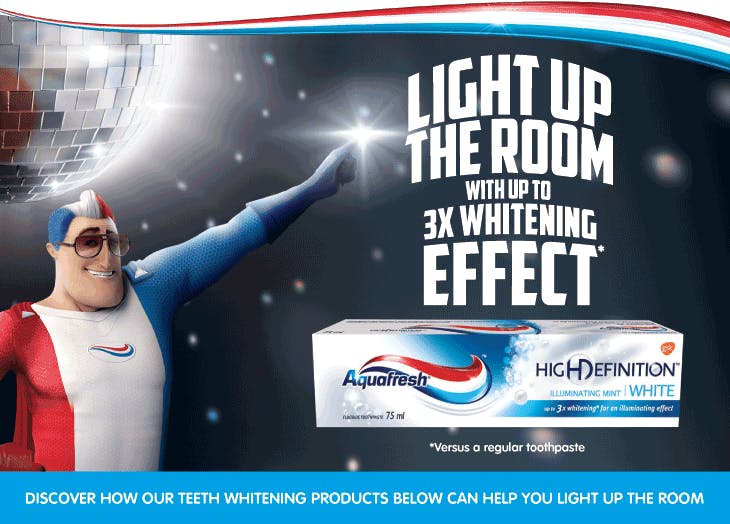 Use Aquafresh High Definition White Illuminating Mint teeth whitening toothpaste for up to 3 x better teeth whitening* with stain removal technology
AQUAFRESH High Definition Illuminating Mint teeth whitening toothpaste contains our unique active micro-fine ILLUMIPEARLS teeth whitening technology, which starts removing stains and polishing the surfaces of the teeth from the very first brush, leading to up to 3x better whitening* for a beautifully illuminated smile. And because it's an AQUAFRESH product, the freshness you'll feel is unmistakable as well as knowing your mouth is triple protected too.
*versus a regular Aquafresh toothpaste
Flavour
The white and aqua stripes contain mint flavour for uplifting freshness.
Ingredients
Aqua, Sorbitol, Hydrated Silica, Glycerin, Pentasodium Triphosphate, Alumina, Sodium Lauryl Sulfate, Aroma, Xanthan Gum, Cocamidopropyl Betaine, Titanium Dioxide, Carrageenan, Sodium Fluoride, Sodium Saccharin, Sodium Hydroxide, PEG, Limonene, CI 74160, CI 74260. Contains: Sodium Fluoride (1450 ppm fluoride).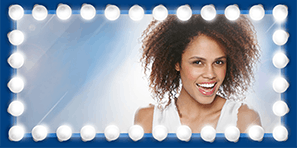 Top 5 photo-ready tips
1. Always brush your pearly whites with new AQUAFRESH High Definition White toothpaste. So the next time someone says 'say cheese', you can flash them a super illuminated smile.

2. Nothing looks better in a photo than a natural smile. So stay relaxed and imagine you're smiling at a friend for the perfect shot.
3. Filters on camera apps are great for making photos look hip, but they can also make you look a bit washed out. So pick a bold lipstick colour to enhance your smile and make sure your lips don't get lost.

4. Models get to know their best angles by practising in front of a mirror. It may sound vain, but by doing the same you'll soon know what makes you feel more confident in front of the camera.

5. Enjoy yourself. Photos capture the good times, so remember to have fun and don't forget to, well, smile...